by abilis
THE Human Ressources Management SOLUTION FROM THE CLOUD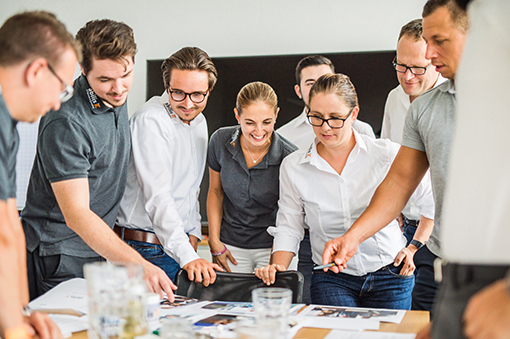 SAP SuccessFactors by abilis
Thanks to our long-lasting experience in HR at med-sized companies, we are familiar with your processes, challenges and needs.
In order to master these challenges in the best possible way in the future, we offer SuccessFactors (SFSF) by abilis, a modern HRIS solution that combines the strong processes you are familiar with from SAP with an attractive user interface. SuccessFactors is highly end-user oriented and provides a unique user experience for each user group.
SuccessFactors is rightly called HXM (Human Experience Management)!
The implementation is based on best practices. However, it leaves enough room to meet your individual processes as well.
Meet your competition on the job market with the strongest recruiting in order to continue to attract the best talent in the future. Integrate your new employees into your company BEFORE their first day at work. Continuously develop your colleagues to retain the most motivated, efficient and satisfied employees.
This is SuccessFactors!
WHICH CHALLENGES MUST MID-SIZED COMPANIES MASTER?
Identify and win talents
In the highly competitive job market, companies need to identify talent and then convince it of their merits in order to beat the competition and win the talent over.
Motivate your employees
An important point for companies is to motivate their employees and thus increase their happiness and productivity.
Qualifying employees
In the time, characterized by change, employees need to be continuously supported and trained in a targeted manner to meet all new requirements.
From performance appraisals and the identification of skills gaps to employee training, SuccessFactors offers you optimal support.
THIS IS WHAT SAP SUCCESSFACTORS BY ABILIS OFFERS YOU
Are you a HR manager?
Imagine having a tool that gives you all the key metrics. You access the most up-to-date data and can jump into the details to make informed decisions on a daily basis. With SuccessFactors, you have such a tool at your disposal, which allows you to recognize the need for action at an early stage. This allows you to respond in a timely manner to changes such as increasing employee turnover or the designation of a successor.
Are you a recruiter?
With SuccessFactors by abilis, we offer you an integrated one-stop store where you have an overview of all open positions and can coordinate the next steps in the recruiting process. Your individual workflows are supported in the best possible way by automated process steps. For example, jobs can be advertised both internally and externally, interviews can be scheduled, and candidates can subsequently be evaluated. If the application is successful, the Onboarding module offers the opportunity to introduce employees to the company before their first day of work.
Are you a department manager?
SuccessFactors provides a holistic overview of your team's performance, along with KPI-driven decision making that covers the entire employee lifecycle of your team. Make the appropriate decisions in approval workflows based on this, overview the key metrics and focus on your core business.
Are you an employee?
As an employee, you would like to have control over your data, goals, payroll accounting and vacation requests and always maintain an overview – in other words, more responsibility through self-management? With SuccessFactors, in addition to these things, you also get a clear overview of the goals you have set and can find out about new training courses at any time as well as book them independently.
SAP SUCCESSFACTORS – THE SFSF MODULE IN DETAIL
With the main modules Talent Management and Employee Central, SAP SuccessFactors (SFSF) offers many useful functionalities and possibilities for every employee in your company. From recruiting new employees to self-management of the set goals and time sheets to important reporting options – with SuccessFactors we give you a powerful tool at your fingertips.
Recruiting
Comprehensive recruitment management
Individual design of the application process
Job ads on internal and external career sites
Global talent search to find employees with the right competencies
Overview of all candidates and their status in the process
Making transparent and objective decisions using the software
Establishment of candidate relationship management
Simplified hiring through streamlined workflows
Employee Central
Master data management in HCM Core
Core element for further modules
Maintenance of personal data by the employees themselves
Clear organizational management
ESS and MSS
Integration for payroll and time + attendance
Performance & Goals
Target agreements for employees
Alignment of individual performance with corporate goals
Performance review and evaluation
Continuous performance management through development and promotion of employees
Regular coaching and feedback
Onboarding
Personalized portal for newly hired employees
Successful integration of future employees into the organization before their first work day
Building important relationships through networking with mentors and co-workers
Integrated electronic forms
Checklists, goal plans and guidance for everyone involved in the hiring process
Analytics & Planning
HR Reporting
HR data and key figures to support the taking of measures and the decision-making process
Visualization of key figures
Strategic personnel planning through analysis based on key figures
Evaluation of various trends
Succession & Development
Comprehensive succession planning
Setting development goals and planning career paths
Targeted development of managers
Early identification of gaps
Closing competence gaps through appropriate measures
SAP SUCCESSFACTORS FROM THE PUBLIC CLOUC
SuccessFactors (SFSF) from the Public Cloud adapts itself to your business. As your business grows, you can flexibly scale resources up and down if necessary. This saves you the high costs that an on-premises solution would require. Do not worry about data security from the public cloud. Your company data is as secure as, for example, online banking.
We will be happy to advise you individually on the purchase of SFSF licenses. beraten wir Sie individuell zum Erwerb von SFSF-Licenses. These are based on the factors company size, i.e. number of users and the corresponding authorizations, and the SFSF modules included. All licenses are rented and billed on a monthly basis.
Are you looking for a comprehensive solution for your HR management and company organization?