Human Resource Management in SAP
employee self service, payroll accounting, and authorisation management in one system
ON PREMISES
CLOUD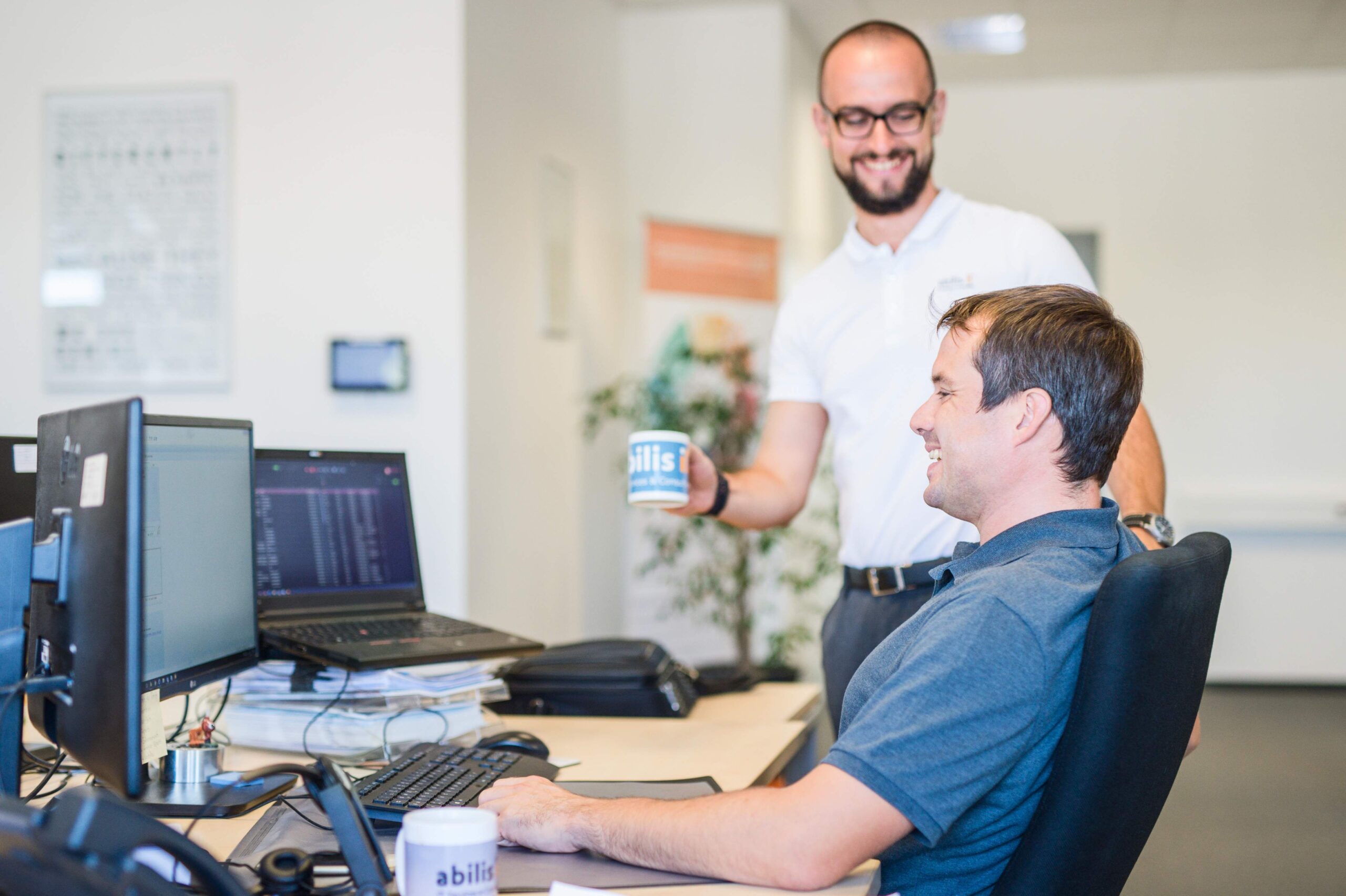 SAP HCM OR SAP SFSF?
ON PREMISES OR THE CLOUD?
To recruit new employees, optimise HR processes, and simultaneously consider all legal aspects, a HR management software is vital – especially for medium-sized and larger enterprises, or those with a large quantity of new hires. Whether with a local service provider or on the cloud, SAP's HR solutions cover all essential functionalities.
SAP HCM enables you to ideally complete all processes concerning your staff whilst strategically elevating your employees' development. Payroll accounting, complex internal and tariff regulations, master data management, travel and subsistence claims, time and attendance tracking and more is made possible through SAP HCM – simply and automatically. With SAP HCM you will be using a HR management system that can illustrate hierarchies across your company, and through which you may also control the administration and development of your staff.
Organisational Management & Staff Administration
Maintain all company and staff data in one system and distribute clear authorisation for the entire SAP system landscape.
SAP ESS / MSS
Enable self-management of personal data with web-based mobile applications for Employee Self-Service (ESS) and Manager Self-Service (MSS).
SAP Payroll Service
Payroll accounting is carried out professionally and reliably with a go-to person and according to individual needs. Communication with public authorities is included as a standard feature.
Like SAP HCM, the cloud-based HR management software SAP SuccessFactors (SFSF) provides you with all essential functions you may need. Through SAP Fiori, its innovative and intuitive user interface, it offers exceptionally simple usage to both your employees and external applicants.
Talent Management
Besides offering important qualifying and advanced training courses, SFSF gives your employees a clear overview of their set goals.
Employee Central
In Employee Central every staff member can maintain their personal data. Additionally, holiday requests, working hours, etc. can be recorded therein.
Recruiting
SFSF offers extensive applicant management, allowing you to individually tailor the application process whilst helping you find qualified staff.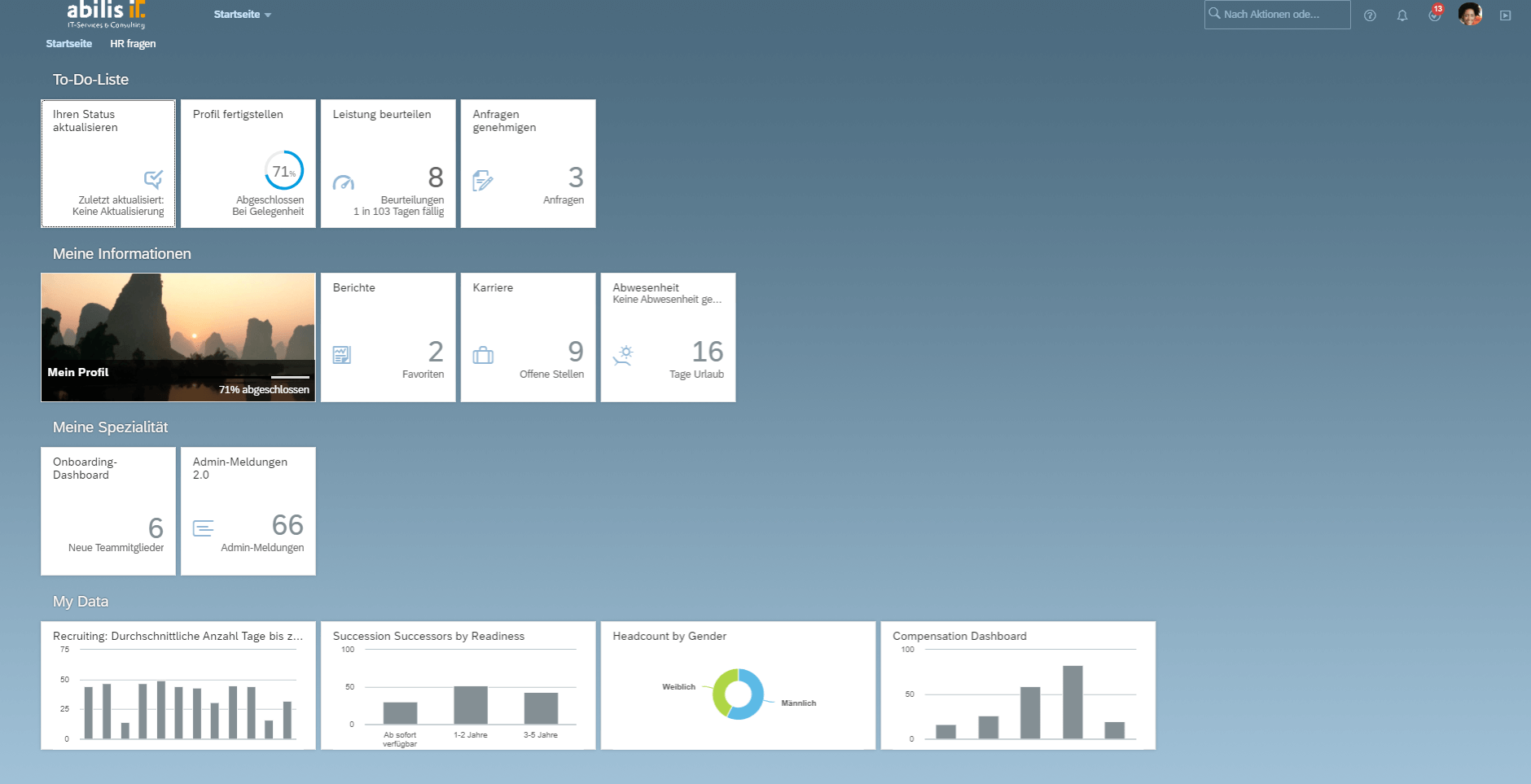 SAP FIORI FOR HCM AND SFSF
The new intuitive user experience
The user interface SAP Fiori has created an entirely new user experience for SAP systems. Users may now individually configurate their dashboards and are led through processes intuitively, simply, and flexibly. Of course, it is possible to adjust the design according to that of your company. Below you can find an example in our abilis orange.

User friendly
SAP users will know the interface from their smartphones, making it easier for new staff members to familiarise themselves with it.
Usable from any location
With SAP Fiori as front end you can use your HR software from any device or location through one browser. 
Reduces errors
Through improved user control workflows are clearer to detect, which reduces the risk of manual errors.
Our focus lies also on the development of individual SAP Fiori Apps and new scenarios for our customers. We are more than happy to present to you our previously created apps, or to develop your desired apps with you. Examples of our work include on-behalf functions for supervisors or My Reports for evaluations.