SAP BUSINESS PROCESS MONITORING (SAP BPM)
Comprehensive Monitoring of Business Processes with SAP Business Process Monitoring (BPM)
Efficient business processes are crucial for the long-term success of a company. In a rapidly changing business environment, these are often extensive and complex. This makes comprehensive monitoring all the more important, because controlling and monitoring these processes must encompass both the business and technical aspects.
SAP Solution Manager offers comprehensive functions for monitoring your processes and solutions. With the Business Process Monitoring (BPM) included in it, direct reference to the business process is made possible in addition to the technical system monitoring. This allows you to monitor all critical processes centrally and automatically.
Why SAP Business Process Monitoring?
Complex SAP landscapes can no longer be operated without automated monitoring. Known solutions for system monitoring monitor technical parameters, such as available storage or utilization, however, they cannot guarantee that all business processes run without errors. Furthermore, several different programs are required to evaluate web interfaces, analyze statistics or, for example, update aborts.
Decentralized evaluations require more time, because responsibilities are often not clearly identifiable. In the actual event of an error, the delayed reaction can quickly become a problem.
SAP Business Process Monitoring and Solution Manager provide a remedy here. Business processes are thus monitored automatically and centrally, and faults or deviations are automatically reported and analyzed. The correct contact person is documented in the process step and can thus be quickly identified.
The Solution Manager integrates all technical parameters. This allows you to quickly get to the bottom of the fault and react in good time. The following graphic is intended to provide an overview of the architecture of SAP Solution Manager: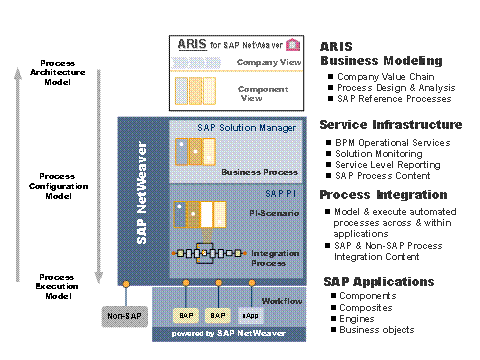 What functions does the BPM contain?
SAP Business Process Monitoring and Solution Manager are used for proactive and process-oriented monitoring of critical business processes. All business and technical functions that ensure the smooth and reliable running of processes are monitored.
Threshold values for technical and business KPIs can also be defined in order to initiate automated reaction methods. A business warehouse system (SAP BW), for example, can also be integrated in order to generate trend analyses.
Implementation of SAP Business Process Monitoring
Would you also like to have your critical business processes monitored automatically and be able to rely on a quick solution in the event of an error? As a long-time certified SAP Gold Partner and SAP Partner Center of Expertise, we support medium-sized customers as well as multinational corporations in the implementation of SAP BPM or SAP Solution Manager.
Our experienced consultants support you with broad know-how in optimizing your business processes. In addition to detailed documentation, we place particular emphasis on professional process modeling in close cooperation with the respective department.