SAP HANA and Sybase – This is How Your SAP System Landscape changes
Behind every visible surface, there is a base, which allows the existence of the latter. Without SAP HANA it would be impossible for SAP S/4HANA to exist, which gives your company numerous new opportunities.
Many are afraid of the data migration to SAP HANA. The expertise in some companies is sometimes too little, while at the same time the fear of such a great change – too big. In this article, we would like to explain to you SAP HANA in details, as well as to show you the changes and the challenges that your company will meet.
SAP HANA is one in-memory database. In the following paragraphs we will tell you which special technologies stand behind this database and which possible scenarios they allow for.
What is In-Memory Technology?
In-memory technologies are always important if there is data, which should be analyzed. Usually, data analysis are very time consuming and that is where in-memory technologies come in play. They allow for significantly increased data processing speed. Ad-hoc queries can be answered in milliseconds. That is why, query chains can be fully completed within the shortest time. This means that a SAP user can ask a question in the database and almost immediately after they get the answer will be able to formulate new data query. This is what real time dialogue means. This function of the database is also shown as OLTP (Online-Transaction-Processing).
In order to have a low reaction speed, save the data in the in-memory database in the main memory. In a classic database the data is saved in the so called row-store-format, like an Excell table, where the data is stored in columns and rows. However, in an in-memory-database the data is saved in column-store-format, where the data with the same column value is saved together. This high data optimization leads to an improved performance during data analysis. In this case, the database reads only these columns which require analysis or data output. Therefore, the performance is improves significantly.
What changes for the environment of you SAP system landscape?
What kind of changes are there for the hosting, server, and database when you migrate to SAP HANA? In this article, we explain this, comparing it with anyDN, for example Oracle. anyDM is a classic, relational database (no in-memory-database), on which your current SAP-ERP system most probably runs, unless you have already migrated to SAP S/4HANA.
Your complete SAP system will migrate either to SAP HANA or to Sybase. Sybase is a database of SAP, which is a classic, relational database, unlike SAP HANA. The Sybase licenses are included in the SAP-HANA licenses.
Therefore, it is less sensible to have non-HANA systems running on any DBs of other providers. In this way, you save the expenses for additional databases, since migration of all the systems to SAP HANA can be quite expensive.
For the operation of SAP HANA you need to have large servers with lots of power. Apart from the data storage and the database size of SAP HANA, most probably there will be another alteration to your SAP environment. The database SAP HANA runs only on a Linux server. Currently, most of the companies still use Windows server. This change affects not only your SAP environment, but also your employees, who in most cases are familiar only with the use of Windows servers. Sybase runs, on the other hand, both on Linux and on Windows servers.
At the end of this article, we will give you advice how to split meaningfully your SAP systems between the two databases.
Challenges with SAP HANA
With the migration of the databases to SAP HANA or Sybase the companies are partially faced with great challenges. Hereby, we have listed the most crucial ones:
Allocation of the databases to SAP HANA or to Sybase:  You have to decide on which databases your different SAP systems should run. Let a service provider consult you. It is essential here how big the company is, at what point the use of a bigger, better and more expensive database makes sense, and where some costs can be saved.
Expertise on Linux is required: During the migration to SAP HANA, the employees, who are in charge of the system operation, should be familiar with Linux. Most of the databases are still running mostly on a Windows operation system.
High Costs: SAP HANA requires higher costs in comparison to other databases on the market. You need, for example, much more GB RAM (working memory) and the more space is required, the higher the costs are. Therefore, SAP HANA has the maximum power in order to process the data better and faster.
Advantages of SAP HANA
Higher Power: SAP HANA requires more memory space; however, it has a better performance when it comes to data analysis.
Faster reaction speed: Since the data is saved in the working memory, it is now possible to distribute and combine data in real time. Thus, you can improve the speed and the productivity of your work.
Big Data: Larger amounts of data can be combined with one another and processed with SAP HANA.
Innovation Opportunity: With SAP HANA as a basic database all doors to innovations are open to you, for example the usage of artificial intelligence or Machine Learning. This kind of innovations are possible only when the data can be analyzed and combined in real time.
Our Recommendations
As a conclusion, we would like to recommend you how the allocation of your SAP system to the databases SAP HANA or Sybase should look like.
Sybase: We recommend that technical systems, which do not require significant changes, run on Sybase.  These include, for example, your SAP-Fiori frontend components or the SAP Solution Manager. Sybase databases are cheaper than SAP HANA and do not require its functionality. 
SAP HANA: SAP HANA should be the basis for your S/4HANA Business Suite and for your SAP-HCM system, for example as well. This means that the importance business applications, which have to be managed consistently and which have to show high performance and data analysis, require the same basis. Moreover, only access via SAP Fiori is possible, which provides enormous facilitation and optimized user experience in the HCM sector.
As a certified SAP partner with many years of experience, we are well aware of the needs and demands of the mid-sector. The goal is to fully, sustainably, and honestly consult you – from SAP HANA and Sybase through S/4HANA all the way to SAP HCM and individual SAP-Fiori Developments. Contact us and convince yourself.
Expert Knowledge on our SAP-Blog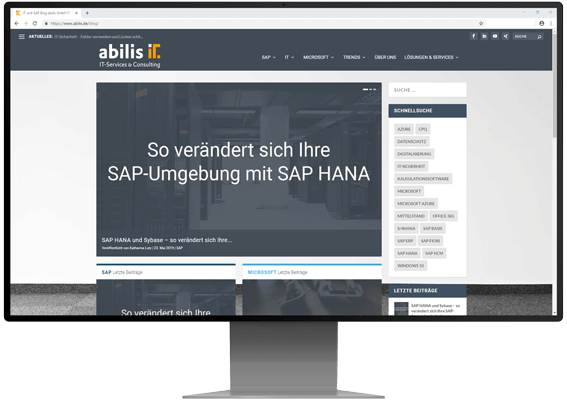 Optimize the manufacturing industry with the ERP Systems