SAP & CPQ
Consistently digital company processes with business applications, which work closely with one another.
CPQ-Software calcIT – Your Toolbox for the Calculation and Quotation Processes
With calcIT we provide you with one tool, with which you can calculate flexibly and create quotations according to your needs and requirements. From now on, you can easily make calculations without losing track of anything. Thereby, you can send to your clients any time quotations, which are up-to-date in terms of price. You can learn more about the CPQ software calcIT on our website.

Why calcIT when you already have SAP in use?
With SAP S/4HANA and SAP ERP ECC we offer you high-performance company software, which relies on standardized and simple processes. Here, we do not put any emphasis on general material or project calculations. With calcIT, the CPQ-solution integrated in your SAP system, you have the opportunity to individually and flexibly display deep material structures. calcIT, unlike SAP, is a low-code platform, where the surfaces and functions can be adjusted without any programming knowledge. Moreover, calcIT was developed as a standard software with the features of individual software, where it is possible to implement individual changes any time.
More efficiency thanks to bi-directional data transmission
"Die Integration von calcIT in SAP bietet Ihnen eine ganzheitliche optimale Kommunikation wichtiger Geschäftslösungen. Ihre Daten werden je nach Wunsch bidirektional automatisch oder manuell per Knopfdruck direkt zwischen calcIT und SAP synchronisiert. Dadurch wird sichergestellt, dass Ihre Mitarbeiter stets mit den aktuellsten Daten, z. B. Materialdaten, arbeiten und Ihren Kunden aktuelle Informationen übermittelt werden."

Integration calcIT in SAP
Some data from the SAP system will be additionally used for calculations. In order to save time or avoid double work, a bi-directional synchronisation between SAP and calcIT is created. The information supply from SAP will be optimally provided, since the results from the product configurations are constantly synchronised with the orders in the SAP system. In this way, it is guaranteed that the products are actually configurable and are offered under the correct conditions.
Which data can be transferred from SAP to calcIT?
Thanks to the integration of calcIT into SAP, it is now possible to transfer different types of data from one system to another, for example master data or project data. This can happen either automatically or by simply pressing a button. In the list below, you can the data types which can be transferred either bidirectional or only from calcIT to SAP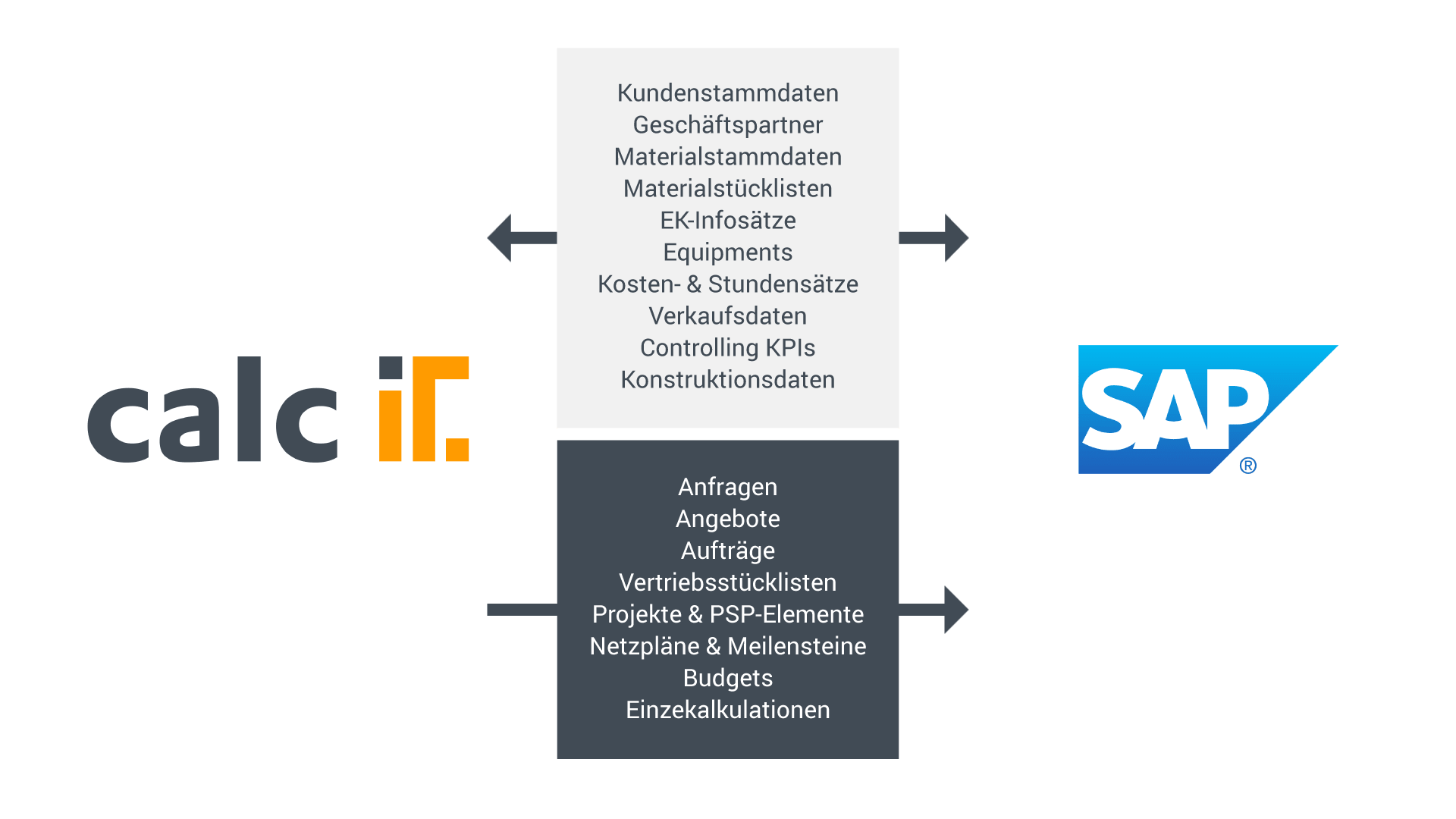 Advantages of the Cooperation between SAP and calcIT
Compare your planned and actual values
Compare the planned values in calcIT with the actual values in your SAP system in order to carry out evaluations in a more optimal way.
Calculate flexibly
With the CPQ software calcIT you can the possibility to freely override values, as well as to adjust easily and flexibly the data to your requirements.
Build deep material structures
It does not matter how complex your products are – you can always keep an overview in spite of the depth of the material structures.
Transfer all of your data automatically
You can manually or automatically transfer any data (for example master data) from one system to another.
Create customized quotations
Create quotations according to the company guidelines and adjust them any time, if required.
Customized Function Blocks instead of Standard BAPIs
Thanks to the close work of our development departments SAP and calcIT, we can easily configure special function blocks, as well as entirely new products, according to your requirements.
WE ARE YOUR STRONG PARTNER FOR SAP AND CALCIT
ALLES AUS EINER HAND
Vertrauen Sie auf eine ehrliche und kompetente Beratung und Umsetzung über die gesamte Wertschöpfungskette hinweg: SAP Consulting, SAP Entwicklung, SAP und calcIT Hosting, SAP Basis Beratung, calcIT Consulting, calcIT Entwicklung und Managed Services.
UMFANGREICHE FACHKOMPETENZ
Auch bei der Integration von calcIT in bestehende SAP-Systeme können Sie auf die Erfahrung und das Know-how unserer calcIT- und SAP-Experten setzen.
SPEZIFISCHE BEST PRACTICES
Durch unsere branchenspezifische Best Practices im Bereich integrierter Prozessen und SAP-calcIT-Schnittstellen sowie eigens entwickelte Funktionsbausteine können Kosten und Einführungszeiten reduziert werden.
LANGJÄHRIGE PROJEKTERFAHRUNG
Im Bereich SAP und CPQ können wir auf einen langjährigen Projekterfahrungsschatz und beeindruckende Referenzen zurückblicken, sowohl für SAP ERP ECC als auch SAP S/4HANA.
All Information about SAP meets CPQ at one glance
Download our brochure for free and contact us if you need consulting about the integration of calcIT in your SAP system.
EXCERPT OF OUR S/4HANA CUSTOMERS
Expert Knowledge on our SAP-Blog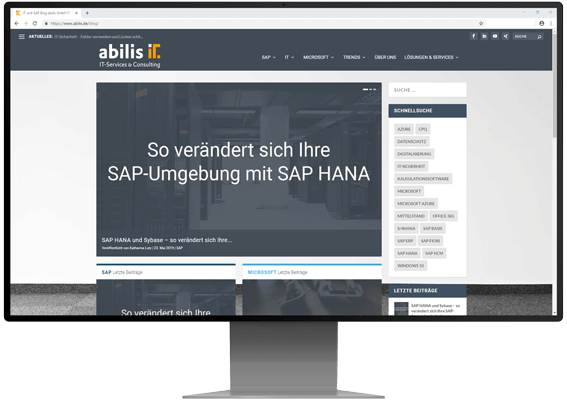 Optimize the manufacturing industry with the ERP Systems