User friendly. Modern. Simple. SAP Fiori.
SAP Fiori is the future of the user interfaces of SAP
SAP Fiori
–

efficient functions

Customizable Launchpad
Personalize your Launchpad according to your working method. Thus, you have a clear overview and can work faster and more efficiently.

Drag&Drop-Function
Switch the apps according to your personal preferences per Drag&Drop. You can also create different categories. Recently used apps will be located in the quick access.

Good Overview
Mark different files and work on them later on, so that nothing could fall between the cracks. Keep an overview of the tasks, which are still pending.

Process Automatisation
You can now automatize repetitive processes. Put in one process definite actions, used on a daily basis, thus standardizing your processes.

Innovative Search
Call transactions without the need to know their transaction code. As an addition, you can filter all contracts of a definite client, for example.

Online Access to the Payroll Accounting
Call transactions without the need to know their transaction code. As an addition, you can filter all contracts of a definite client, for example.

Comments Function for a Good Teamwork
Leave your colleagues comments with important information concerning current project status. Thus, also in case of absence, due to illness or holiday, the project will not come to a halt.

Accessible Transaction Status
You have a fast and clear access to the status of single transactions, like travel expense accounting or vacation requests for example.
Do you want to test SAP Fiori now and profit from its advantages?
If you want to make a slower approach towards SAP HANA, you can now test SAP Fiori and integrate it into your system. We will be glad to set it up for you.
Advantages for Your Company and for Your Users
Increased Usability
The intuitive user interface increases not only the productivity, but also the motivation of the users. Relevant applications are immediately tangible and simple to work with which improves the quality of the work and the acceptance of the system.
Lower Susceptibility to Errors
In SAP Fiori the user control is clearly defined. This makes it impossible to skip or forget any work step. Thus, proposed amendments are significantly reduced. This saves on expenses and reduces costs. 
Location and Device Independence
The responsive design of the user interfaces allows for a device-independent use. In this way, the SAP System can be used on the go, operated on a smartphone or a tablet.
SAP EMBEDDED ANALYTICS
THE REPORT AND ANALYSIS TOOL IN THE SAP S/4HANA SYSTEM

The new SAP S/4HANA system offers for the first time some analysis and reporting options in the standard, without the need to use add-ons or third-party software. The "SAP Embedded Analytics" tool is firmly integrated in the SAP S/4HANA environment and enables extremely fast data evaluation directly on the Launchpad. The tiles on the Launchpad can be customized in SAP Fiori. A wide variety of visualization options give you an optimal overview of your evaluations.
Who is SAP Embedded Analytics suitable for?
Primarily for small and mid-sized companies that have a low budget for data analytics projects.
BENEFITS OF SAP EMBEDDED ANALYTICS
You receive user-defined evaluations in real time directly on the Launchpad.
Extensions are possible and external data can also be evaluated as CDS views.
There is little implementation effort and the tool can be used as standard.
Due to the in-memory technology, evaluations can be created extremely quickly.
Trust a long-time certified SAP Partner
As a full SAP service provider and a long-time certified SAP Gold Partner, we can provide you with efficient and according to your need consultation.
EXCERPT OF OUR REFERENCES
Expert Knowledge on our SAP-Blog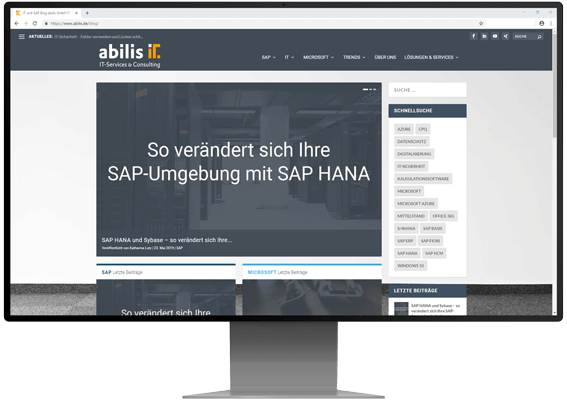 Optimize the manufacturing industry with the ERP Systems