SAP S/4HANA Cloud
Flexible, scalable & agile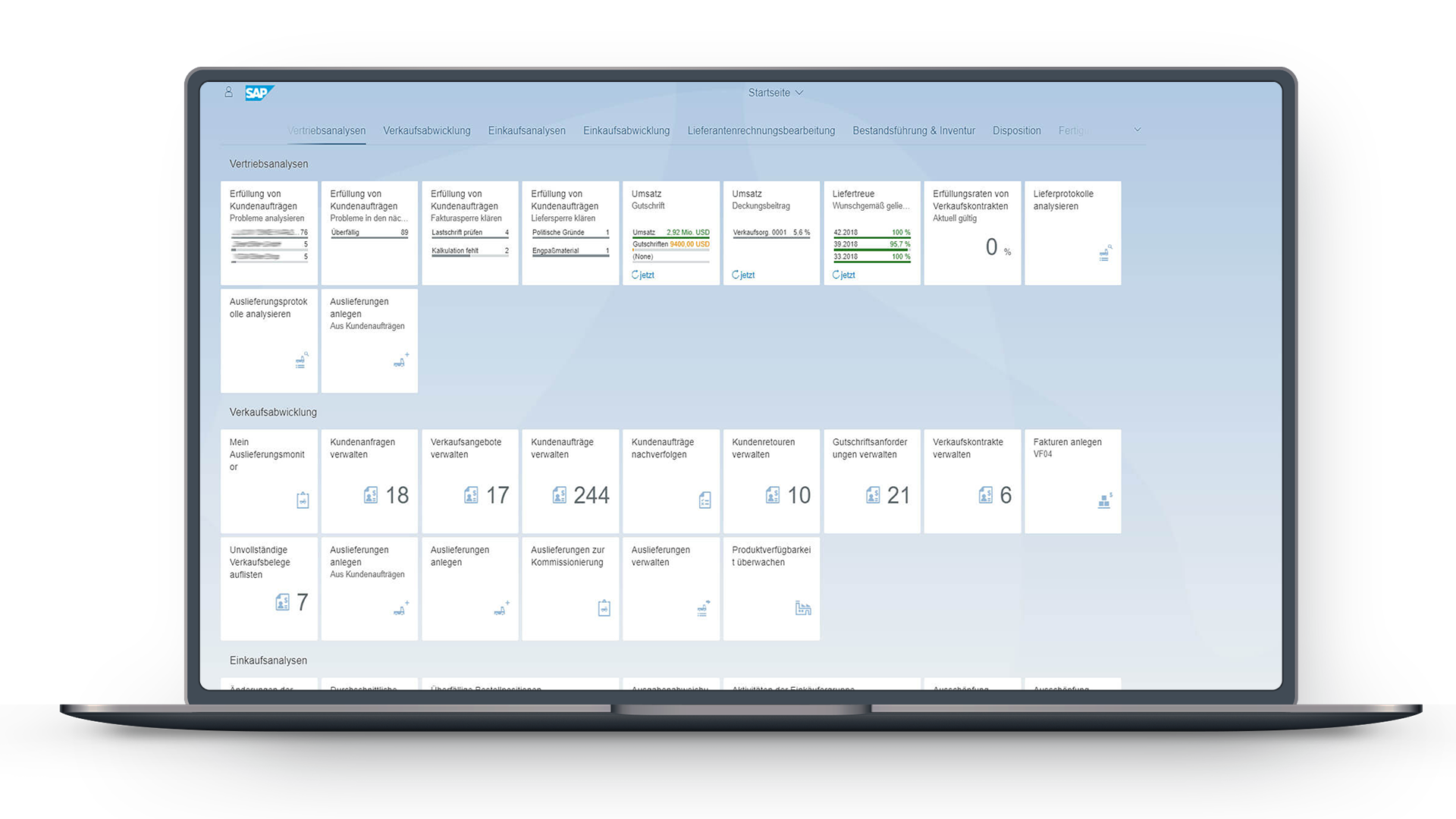 SAP S/4HANA Cloud
With its SaaS (Software as a Service) solution, SAP provides its customers with the S/4HANA Business Suite in the cloud. Small and mid-sized companies in particular benefit from this approach, since operating and hardware resources are fully eliminated. An introduction of SAP S/4HANA Cloud is only possible with the Greenfield approach, because a completely new setup is required and all processes are re-thought. Companies that work close to the SAP standard have a big head start when converting to SAP S/4HANA.
YOUR BENEFITS WITH SAP S/4HANA CLOUD
Little internal work
In the area of maintenance and operation of the ERP solution, you have far less in-house responsibility. This reduces both your staff resources and hardware resources, since you do not have to operate your own servers and hand over the entire operation.
Implement standard processes faster
In comparison to the on-premises variant, S/4HANA Cloud can be implemented more quickly. However, this assumes that the processes are close to standard. Training is far less frequent thanks to the Fiori interface, which is used exclusively in the S/4HANA Cloud.
Flexible scaling
If, for example, there is an unexpected increase in data requirements, you can flexibly add more storage space or higher computing power – all this without any major internal effort. Especially in the case of rapidly changing use cases, the S/4HANA Cloud offers the ideal conditions for being able to react quickly.
S/4HANA CLOUD OR S/4HANA ON PREMISES
THE DIFFERENCES BETWEEN VARIOUS ERP-SYSTEMS
The general scope of functions of both solutions is very similar. Also, the SAP Fiori user interface can be used with both software variants. Both ERP solutions are also based on the SAP HANA in-memory database – real-time data processing is thus a given for both ERP systems.
Implementation and Operation
While SAP S/4HANA On Premises can be introduced in various approaches, in which existing processes can also be adopted, S/4HANA Cloud can only be introduced with the Greenfield approach. For this purpose, a completely new business suite must be set up from scratch. With the SAP S/4HANA Cloud, the total cost of ownership (TCO) is quite relative. The reduction in operating and hardware costs due to the relationship of the software from the SAP cloud contrasts with the high costs of the on-premises variant. The initial costs in particular are lower than those for SAP S/4HANA On Premises.
Maintenance and Further Development
With the introduction of SAP S/4HANA On Premises, the maintenance and the extensions in the form of customizing or additional further development are in your hands or those of your SAP service provider. This naturally makes you more variable in deciding which functions or support packages you really need. With SAP S/4HANA Cloud, you are always up to date and updates are constantly applied. With both ERP variants, you can connect further SAP applications to your system; however, you are somewhat less flexible when it comes to your own special solutions with the S/4HANA Cloud.
WE SUPPORT YOU IN THIS AREAS
Setting up processes in the SAP S/4HANA Cloud
Deciding which one is more suitable for you - S/4HANA Cloud Essentials or Extended Edition
Elaboration of license model and provision of necessary licenses
Direct integration into SAP system landscape (if required)
Consulting on required additional solutions such as SAP Ariba, SAP SuccessFactors and others
Would you like to introduce the SAP S/4HANA Cloud in a complete package with all the necessary functions?
This is possible with RISE WITH SAP. For more information about RISE, visit our SAP S/4HANA website.