Your Path to S/4HANA
Wir räumen den Sand aus dem Weg, wenn Ihnen die Wüste mal wieder endlos erscheint.
You'd like to go further with the implementation of SAP S/4HANA, but you do not know when and with which steps to begin with?
In order to migrate expediently, it is essential that you have the right strategy. The choice of strategy depends above all on the size of the company and its processes, as well as on the extent of the current SAP System.
We make sure that the harmonization takes place without any data loss and provide you with efficient and according to your needs consultation about the most suitable strategy. Let us support you on your way to SAP S/4HANA. 
PHASE 1 – DISCOVER
"Use and discover your current SAP System"
In the discover-phase a company-wide transformation strategy will be created. You will learn right at the beginning the advantages of SAP S/4HANA and how to use it, as well as the new user interfaces of SAP Fiori. However, you can even now test the new interfaces in your current SAP System. In order to determine the workload for the transition to S/4HANA, an implementation scenario of SAP HANA with a strategy, individually customized for your company, should be created. Additionally, the conversion readiness of your current ERP System will be checked. For the further project course, you will be provided with a test system. 
PHASE 2 – PREPARE
"Prepare the rough planning and organization"
The results of the first phase build the base for the creation of a digitalized project plan, as well as the build-up of the responsible project team. Together with the stakeholders of your company, we plan the migration workshops. In these workshops, activities such as the linking the manufacturer and the client data during the system conversion are carried out. In the prepare phase, a prototype of the new SAP System will be designed. The transition to the new system will also be planned and prepared. 
PHASE 3 – EXPLORE
"Explore data and processes"
The basic framework for the implementation of a Gap-Fit-Analysis is built by the previous findings and the project planning. Future company goals will be included in the planning of the system, in order to preventatively fill in possible arising gaps. In order to reduce the resources and to achieve success faster, the volume of the productive database is greatly reduced in this phase. Furthermore, a strategy, how the key-user and the end-user can be best trained, is being developed in the explore-phase. In the meantime, we will take care of the first setup work for a secure test environment (Sandbox), as well as for the development system. The result of the explore-phase is, on the one hand, a technical design document and on the other, analysis of all the functions and processes. Based on that, the necessary resources and support can be determined by the IT.
PHASE 4 – REALIZE
"Now let's get started"
In this phase takes place the final preparation for Key and End User training. Moreover, we implement the security strategy, created in the explore-phase. Extensions, such as the user interfaces SAP Fiori, are developed also in this phase. Within this framework, the customized custom code is thoroughly tested and adjusted. Additionally to the implementation of the technical architecture, the IT infrastructure is mapped and the extent of the productive environment is analysed, as well. 
PHASE 5 – DEPLOY
"SAP S/4HANA is live!"
In order not to have any loss of performance after the Go-Live, the end user is trained in phase 5. During the training phase, the system is tested in details, regarding the user acceptance. As far as the implementation is concerned, all activities will be fully completed in this phase. Then the system S/4HANA is ready for the transition. We begin with the implementation of your productive system to SAP S/4HANA in the deploy-phase. 
PHASE 6 – RUN
"Everything is in operation – ask for support"
The transition to S/4HANA is completed and is ready to use. With this phase, the way to S/4HANA is finished, although it is not over, yet. One SAP System should be monitored, optimized and altered all the time. Innovations and their optimizations, to which the SAP System should react, will be planned in the future. In order to be able to carry out these changes and to guarantee a secure operation, you have to rely on the IT support, which takes care not only of the core IT processes, but also of the fine-tuning. Moreover, the IT support establishes new applications in your SAP System, which with time become more and more important for you. 
PHASE 1 – DISCOVER
"Nutzen und bestehendes SAP-System entdecken"
In der Discover-Phase wird eine unternehmensweite digitale Transformationsstrategie erstellt. Sie lernen gleich zu Beginn die Vorteile und den Nutzen von SAP S/4HANA sowie der neuen Benutzeroberfläche SAP Fiori kennnen. Übrigens können Sie die neue Oberfläche schon jetzt mit ihrem bestehenden SAP-System testen. Um den Arbeitsaufwand für die Umstellung auf S/4HANA feststellen zu können, muss in dieser Phase ein Implementierungsszenario von SAP HANA mit einer individuell passenden Strategie für Ihr Unternehmen erstellt werden. Des Weiteren wird in dieser Phase die Conversion Readiness Ihres aktuellen ERP-Systems geprüft. Für den weiteren Projektverlauf wird Ihnen ein Test-System bereitgestellt.
PHASE 2 – PREPARE
"Grobe Planung und Organisation vorbereiten"
Die Ergebnisse der ersten Phasen bilden die Basis für die Erstellung eines detaillierten Projektplans sowie der Zusammenstellung des zuständigen Projektteams. Zusammen mit den Stakeholdern Ihres Unternehmens planen wir Migrations-Workshops. In diesen Workshops werden Aktivitäten, wie z. B. die Verknüpfung von Hersteller- und Kundendaten beim Vollziehen einer System Conversion, durchgeführt. In der Prepare-Phase wird zudem ein Prototyp des neuen SAP-Systems entworfen. Der Übergang zum neuen System wird ebenfalls detailliert geplant und vorbereitet.
PHASE 3 – EXPLORE
"Daten und Prozesse untersuchen"
Das Gründgerüst für die Durchführung einer Gap-Fit-Analyse bilden die bisherigen Erkenntnisse und die Projektplanung. Zukünftige Unternehmensziele werden mit in die Planung des Systems einbezogen, um möglicherweise auftretende Lücken schon vorbeugend zu schließen. Zur Verringerung der Ressourcen und, um einen schnelleren Projekterfolg zu erzielen, wird in dieser Phase das Volumen der produktiven Datenbank stark reduziert. Des Weiteren wird in der Explore-Phase eine Strategie erarbeitet, wie die Key- und End-User bestenfalls geschult werden. Währenddessen kümmern wir uns um erste Einrichtungsarbeiten für eine sichere Testumgebung (Sandbox) sowie für das Entwicklungssystem. Als Ergebnis der Explore-Phase entsteht zum einen ein technisches Design-Dokument. Zum anderen wurde eine Analyse aller Funktionen und Prozesse durchgeführt. Basierend darauf können benötigte Ressourcen sowie der notwendige Support durch die IT festgestellt werden.
PHASE 4 – REALIZE
"Jetzt geht's praktisch los"
In dieser Phase finden die endgültigen Vorbereitungen zur Key- und End-User-Schulung statt. Zudem implementieren wir die in der Explore-Phase erfasste Sicherheitsstrategie.
Erweiterungen, wie beispielsweise die Benutzeroberfläche SAP Fiori, werden in dieser Phase ebenfalls entwickelt. In diesem Rahmen wird zudem der kundenspezifische Custom Code ausführlich getestet und angepasst. Zusätzlich zur Umsetzung der technischen Architektur wird auch die IT-Infrastruktur abgebildet sowie der Umfang der Produktiv-Umgebung untersucht.
PHASE 5 – DEPLOY
"SAP S/4HANA ist live!"
Damit es nach dem Go-Live zu keinerlei Leistungseinbußen kommt, werden die End-User schon in Phase 5 geschult. Während der Schulungsphase wird das System bezüglich der User-Akzeptanz detailliert getestet.
Rund um die Implementierung werden in dieser Phase alle Aktivitäten vollumfänglich abgeschlossen. Nun ist das System S/4HANA ready und bereit für die Umstellung. Noch in der Deploy-Phase beginnen wir mit der Implementierung Ihres Produktiv-Systems auf SAP S/4HANA.
PHASE 6 – RUN
"Alles ist in Betrieb – Frage nach Support"
Die Umsetzung von S/4HANA ist komplett abgeschlossen und kann vollumfänglich verwendet werden. Mit dieser Phase schließt sich zwar der Weg zu S/4HANA, jedoch ist er noch nicht zu Ende. Ein SAP-System muss ständig überwacht, optimiert und verändert werden. Innovationen und deren Optimierungen werden in Zukunft geplant, worauf das SAP-System reagieren muss. Um all diese Veränderungen durchzuführen und einen sicheren Betrieb zu gewährleisten, sollten Sie auf einem IT-Support zurückgreifen. Dieser erledigt neben den Kern-IT-Prozessen auch das Fein-Tuning und etabliert neue Anwendungen in Ihr SAP-System, die mit der Zeit an Bedeutung für Sie gewinnen.
Processes, Data Storage, and IT with S/4HANA
Right at the beginning and during the complete SAP S/4HANA project we ask ourselves the following three questions and therefore try to find the best solutions to them:
How can we map all processes which will be further needed?How can all the data be transferred from point A to point B without any loss?How should the IT infrastructure look like, or in other words which components and hardware will be necessary?
You need help at any definite phase?
Contact us, we can provide you with assistance in the course of the project if you need us.
WHAT DOES THE CORE OF SAP S/4HANA CONTAIN?
SAP complements the modules, which the HANA core contains, thanks to regular updates. Each core module expands SAP S/4HANA to include further transaction possibilities. As a result comes a SAP Standard, as extensive as possible, which if necessary can be expanded with SAP AddOns.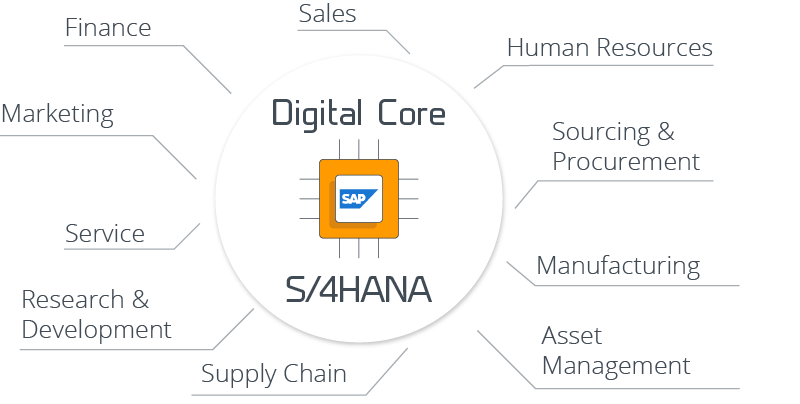 EXCERPT FROM OUR S/4HANA REFERENCES
Expert Knowledge on our SAP-Blog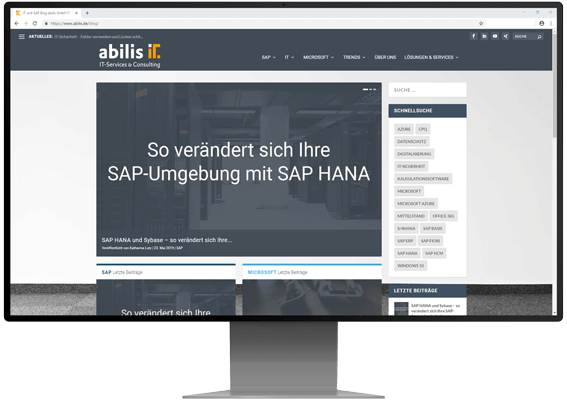 Optimize the manufacturing industry with the ERP Systems