MIGRATE TO S/4HANA IN A FEW STEPS
IN WENIGEN SCHRITTEN AUF S/4HANA MIGRIEREN
Systemvoraussetzungen und Möglichkeiten
Der Business Scenario Recommendation Report (BSR-Report) zeigt auf, welche Geschäftsszenarien Sie mit S/4HANA umsetzen können und wie Ihre Abläufe durch gewisse Transaktionen verbessert werden
Welche SAP Fiori Apps Ihre Geschäftsprozesse vereinfachen und unterstützen, erfahren Sie durch den Fiori Apps Recommendation Report (FAR-Report)
Vorstellung SAP S/4HANA Innovationen (KI – künstliche Intelligenz, SAP Leonardo, etc.)
S/4HANA-Strategieansätze – Greenfield oder Brownfield?
Analyse der SAP-Umgebung
Prüfung der System-Readiness mit dem SAP S/4HANA Readiness Check
Durch den Einsatz des SAP Pathfinders erhalten Sie Empfehlungen bezüglich Business-Suite-Erweiterungen, Cloud-Extensions und welche Innovationen Ihr Unternehmen optimieren
Hardware-Check (gesamte IT-Infrastruktur inklusive Server, Schnittstellen, usw.)
Detaillierter Custom-Code-Check inklusive der Analyse hinzugefügter User-Exits sowie Z-Programmen
Der Simplification Items Catalog listet alle Änderungen auf, die bei einem Umstieg von SAP ERP auf SAP S/4HANA auftreten und möglicherweise zu Inkompatibilitätsproblemen führen könnten
Ergebnispräsentation durch Aufsetzen einer individuellen S/4HANA Roadmap anhand der Unternehmensprozesse, Systemgröße und Zukunftsvisionen (z. B. Einsatz von SAP Leonardo)
Administration und Prüfung der Datenqualität
Datenanalyse, z. B. der verschiedenen Datenquellen, Datentypen, usw.
Bereinigung der Stammdaten
Analyse des Rollen- und Rechte-Konzepts sowie dessen detaillierte Dokumentation
Definition der technischen Ziel-Systemlandschaft
Finale Budgetierung aller Realisierungsphasen
Systembereitstellung: Migration, Entwicklung und Customizing
Hardware bereitstellen
Bereitstellung eines Sandbox-Systems (optional, jedoch raten wir unseren Kunden zum Einsatz einer Sandbox)
Datenbank-Migration, ohne den laufenden Betrieb zu beeinflussen
Installation von SAP S/4HANA
Customizing des S/4HANA-Systems (Allgemeine Systemeinstellungen sowie Konfiguration der eingesetzten Module)
Zusatz-Entwicklungen (SAP Fiori, Prozessanpassungen außerhalb des S/4HANA-Kerns)
Konfiguration von SAP Fiori Apps & Einrichtung Gateway/oData
Schulungen, Tests und Go-Live
Anwender-Schulungen
Test der Systemfunktionalität und den Geschäftsprozessen durch abilis und Kunde
Abstimmung und Dokumentation des Datenbestands
Es kann losgehen: Systemfreigabe – produktives Arbeiten am System
Successful System Conversion from SAP ERP to SAP S/4HANA
– We are your certified partner-
Within the framework of the SAP Partner Program "10Steps2S4", as SAP gold partners, we carry out the complete system conversion from SAP ERP 6.0 EHP xx (AnyDB) to SAP S/4HANA 1790 within two weeks.
The conversion will take place on a system landscape, provided by SAP, in 10 individual steps. All necessary steps leading to S/4HANA are successfully implemented by the following:
Readiness-Check
Custom Code
Customer Vendor Integration (CVI)
Consistency Checks
Customizing
Convert Architecture
Activation and configuration of Fiori Apps
During this two-week training, we have managed to further develop our expertise by means of practical examples. Therefore, as a certified SAP partner, we can fully support you during the harmonisation of HANA.
THE THREE MOST FAQ ABOUT SAP S/4HANA
How can my company best prepare itself for a migration to S/4HANA?
Set yourself detailed goals and ask yourself what you want to achieve with the implementation of S/4HANA. Do you want to optimize your company's processes, to better organize, and if necessary to clean up the master data management or to push the digitalization of the company? A good resources planning, as well as an early organizational management is essential. The simplification and optimization of the company's processes change also the workflow for your employees. That is why, it is recommended that you involve these steps on time in the implementation process.
Learn more on our blog post "10 Tips for a Successful Implementation of SAP S/4HANA"
When is the right time for a migration to S/4HANA?
The right time is now! Do not postpone a migration or implementation of S/4HANA. Then, depending on the complexity of your SAP environment or your company's structure (more subsidiaries with the same SAP data) a migration to S/4HANA can take more than a year. Until 2025, everything must be completed and field-tested, because then SAP stops the support for the current SAP-ERP Systems, which means that there will be no more system and security updates. Seize the chance for further development, stay competitive or become a pioneer in the field of digitalization.
What costs should we expect and how long does a migration to S/4HANA last?
Generally speaking, as a mid-size company it can take ca. 1 year. Do not forget that good planning is essential in this case, that is why you should plan for this purpose additionally ca. 6 up to 12 months. This is, however, individual and depends on your company and its processes. Have in mind that with SAP systems which have been developed and altered for many years and must now be cleaned up because of the introduction of S/4HANA, it takes longer time. The rough estimation of the costs for the implementation of S/4HANA in a mid-sized company with around 500 employees is around 350.000€ – 500.000€.
You want to implement a SAP System in your company?
As a full SAP service provider and a long-time certified SAP Gold Partner, we can provide you with efficient and according to your need consultation. Implementation of SAP and the complete SAP Application Management Support belong to our core competency. Do not hesitate to contact us.
EXCERPT FROM OUR S/4HANA REFERENCES
Expert Knowledge on our SAP-Blog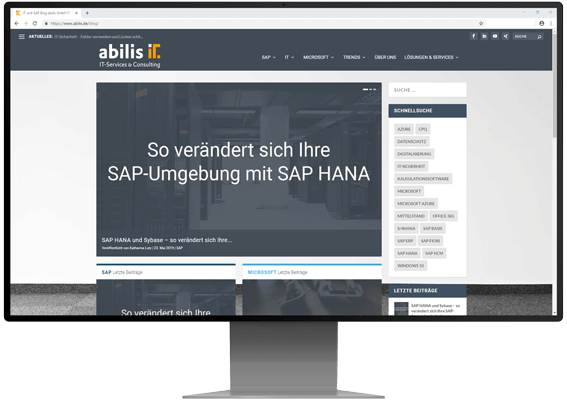 Optimize the manufacturing industry with the ERP Systems